If it's not a message form above then Mary K and I must have sth in common. It's a long story and it has little to do with her until the very end. So go make yourself a nice cup of coffee or tea:)
The rationale dates back from yesterday, when I was reading the book"
Issey Miyake
"and was inspired by his take on bringing the traditional one-piece japanese farm wear into something utterly unconventional and mind-blowing.
Can you believe this is one simple piece of cloth? Well it's definitely one piece, and definitely anything but simple:)
I couldn't help thinking about my field trip to an aboriginal village at China's deepest backstage of the Guizhou Province. It was about 5 years ago, with my mom, and that province is my hometown. Although that village is only about 4 hours drive from my home town where the glittering nightlife starts at 3 am, it is definitely one of those Narnia moments the minute we hit the village. It feels less than a blink of an eye that the first minute you're trapped inside of a maze featuring giant glass cubes, steel blocks and carbon-dioxide, the next minute your eyes are out of focus trying to reach the horizon line with nothing in front of you but a vast carpet of greenness. It was down at the very end of the carpet where we found the hidden treasure, a village where there is no electricity and running water, which I consider a positive thing - who needs all that fuss when you are living in pure paradise?
People living there are a minority ethnic named Shui (literally means water) (there are 56 different ethnics in China), which have a very romantic nature in its history and tales. (Maybe it's just me cuz most of their stories I heard are about love... Or could it simply be because of the fact that I'm a helpless romantic and those love stories were the only ones I remembered? Well, either way, the place is about love, at least in my head.) In the village they have two small hills called the match hills, where young men and women gather annually, singing love songs out loud in turns. If a man on one hill successfully attracts a woman from the other hill to sing along with him, then they get to run down to the valley to meet each other, where they would get married by vowing in front of two giant rocks naturally shaped like a loving couple. That's not the only thing romantic about this village. In the village there grow a special kind of tree with heart-shaped leaves; the symbol of the village looks like a man and a woman standing together... These stories are not what I wanted to talk about here though. The one story that really gets me and received a reservation in the velvet soft chest in my heart is the one about women's bridal dress. Ever since Shui girls are old enough to operate the wooden weaving machine, they are taught by their mothers to do one thing, and one thing only: making their own bridal dresses. The dress takes years to make, cuz they make everything from scratch. And by scratch, I mean, not "if you wanna make anything from scratch you'd have to create the universe" kinda geeky scratch, nor the "buy the brownie mix, add water and pop it in the oven" kinda lazy scratch. It's the proper scratch taken one step further: they do everything from growing the plants for the fibers and color dyes, to making the threads, weaving the fabrics, dyeing the clothes, embroidering the patterns, sewing the garment. When the dress is done, the whole thing is coated by egg for a million times for a set and stunning finish..… And their embroidering is the most ancient craft of embroidering named the "Ma Wei Xiu", where a hair from the horse's tail is tightly intwined by dyed colored pure silk, and used as thread to embroider.
As if the dress and the story behind it are not strong and bold enough, the Shui girls have to wear a set of silver jewelry. It's not our average earring+necklace+bracelet+ring kind of set, it's not even the Queen's set where you add a tiara onto the list. It's a set of jewelry so luxury that it almost covers the entire top of the girl. And man did I mention they are heavy?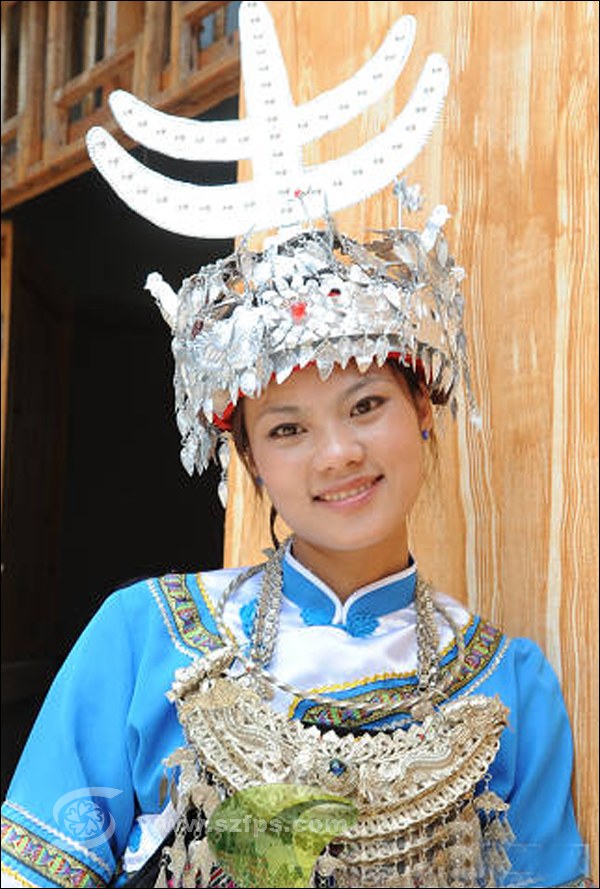 The whole process takes years of hard work, patience, as we as expectations of love that grows in the heart of a girl and turns her into a fine woman. Isn't this single piece of garment the precise definition of fashion? Something that keeps her memories, stories, dreams, hopes and fantasies?
So, cut out from the flashback to yesterday after reading Issey Miyake's story, how he is Japanese but moved along to the US, UK and France… Although I've been all over the place over the years, I always wanted to find my niche, and use my works to tell the story of who I am, where I've been and what I've been thinking and believing in, no matter it's a piece of drawing or a film script or a fashion design collection. I want an ID that reaches deep down to my roots: to China and to Guizhou, the place hardly known to the outside world, but at the same time, an ID that reaches beyond, covering all the tiny bits of my life around the world, and more importantly, all the sparkles and lightbulbs in my head. I guess finding your own niche is a life-long process really, and it takes years to grow and blossom, just like the Shui bridal dress, or a fine piece of pearl, or a fine line of wrinkle. So, talking about having roots through my fashion design collection, I had the idea of a collection inspired by the Shui girls' bridal dress, featuring complicated yet delicate details of oriental patterns, mainly floral and lace-like, and the hour-glass silhouette that highlights the feminine and romantic background story. But since the Ma Wei Xiu is so complicated to make and it's such a traditional thing, I recon I could twist it a bit by printing the embroidered patterns in a really 3D way to give the ancient craft a modern avant-garde vibe.
And today I saw Mary K's oriental prints, it's like, BANG! that's what I was thinking!!!! That's what I'm talking about, you READ MY MIND!!!!
Click here
on style.com to view Mary K's fall 2011 rtw full collection.